As the DUP prepares to select a new leader, Chris Page says the party has detected worrying signs.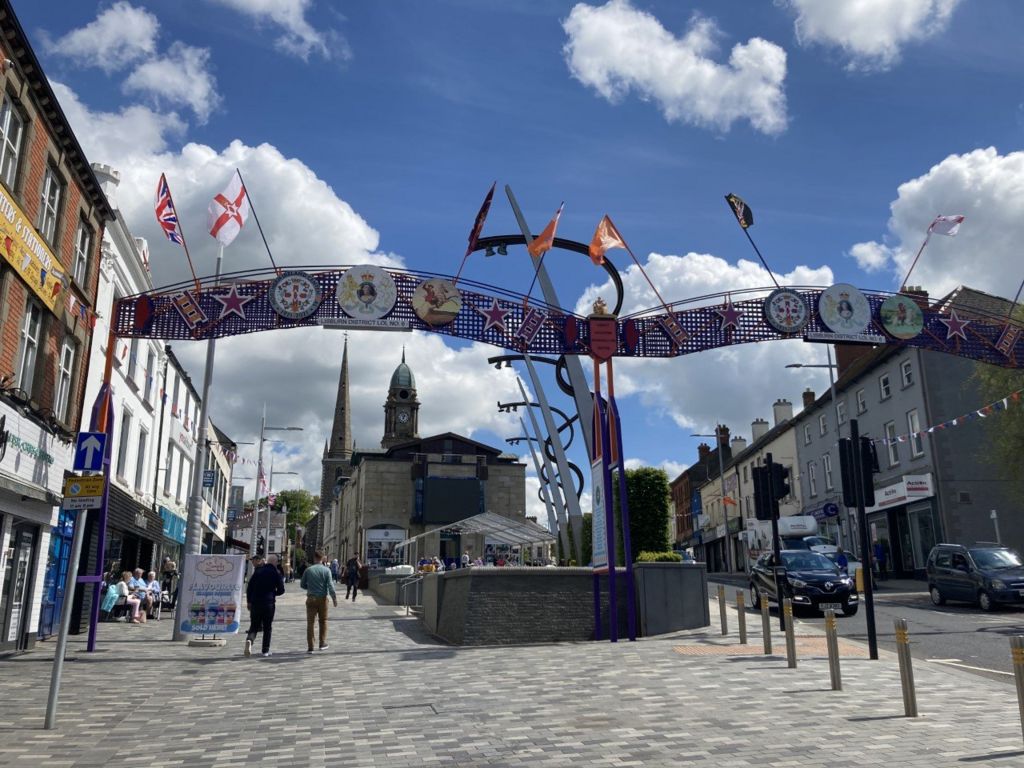 The symbols of unionism are never far away in Lisburn. In the city centre, there's an "orange arch" – a structure bearing emblems of local branches of the pro-union marching organisation, the Orange Order.
It features a plaque unveiled this month, marking the centenary since the founding of Northern Ireland. And yet you don't have to look very hard to find evidence of unionist discontent.
Andrew Dick has lived here for all of his 38 years. "I think the union has never been in a worse place," he says. "We've been well and truly led up the garden path – especially by Boris Johnson, with how Brexit has worked out for Northern Ireland."
It's not just the prime minister Mr Dick is unhappy with. He is also disillusioned with the Democratic Unionist Party (DUP), which on Friday will announce the result of the first leadership election in its history.
At the moment, it feels as if Lisburn is at the centre of the unionist universe – as both of the contenders, Sir Jeffrey Donaldson and Edwin Poots, are based here. They even share a constituency office.
The contest is being conducted in private, but the external commentary is focusing on both social issues and constitutional matters, in an intense debate about the direction of unionism.
The DUP is still the largest group in the Northern Ireland Assembly. But with an election just a year away, the party has been detecting worrying signs.
Last time around, Sinn Féin ended just one seat behind and further slide in DUP support could see an Irish republican becoming the first minister of Northern Ireland.
The DUP is facing a dual assault, from more hard line, socially conservative unionists and more moderate, secularly-focused political forces.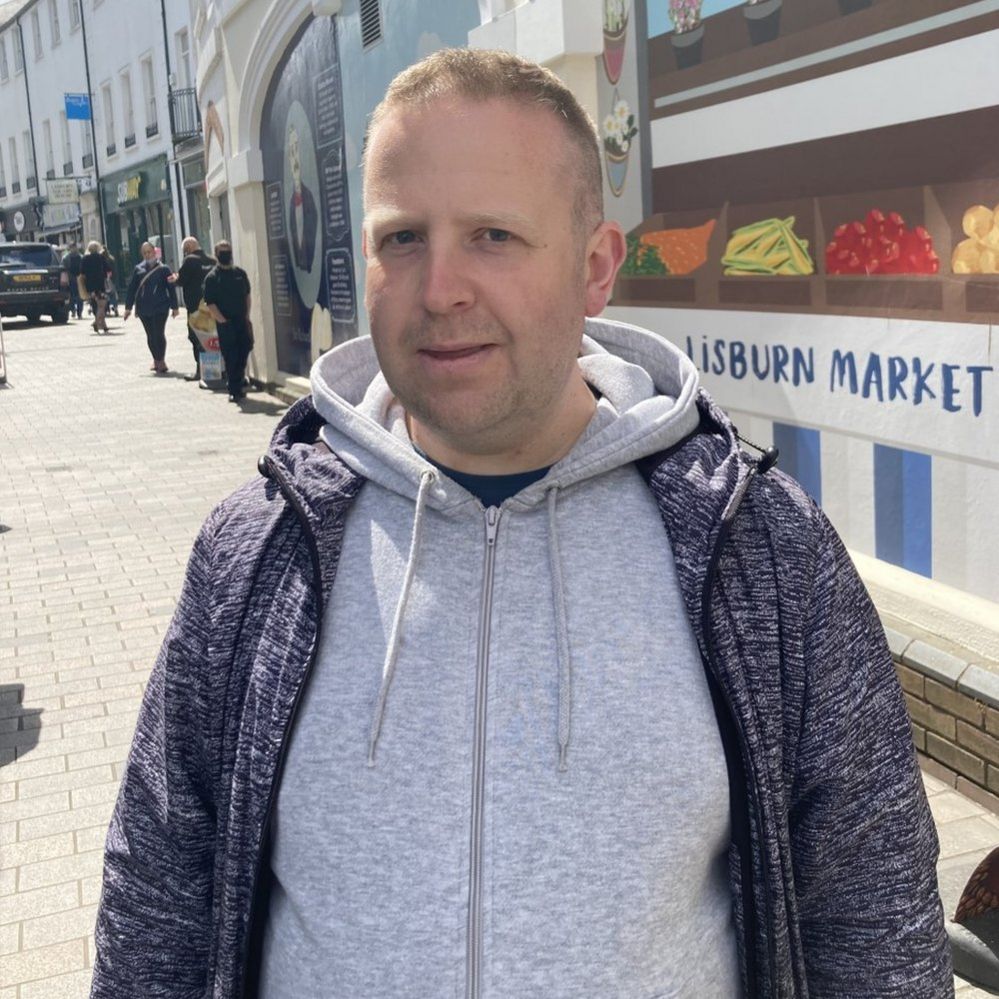 Mr Dick's dissatisfaction with the DUP stems from two issues. Like many unionists, he is not happy about the Northern Ireland Protocol – the part of the Brexit deal, which, in effect, has kept Northern Ireland in the EU single market for goods, while Great Britain has left.
There are checks on goods arriving here from England, Scotland and Wales – which to unionists, represents a trade border and therefore diminishes Northern Ireland's place in the UK.
But he is also not impressed with the DUP's stance on LGBT issues – which he thinks has "represented unionism badly to the rest of the UK".
The DUP opposed same-sex marriage, which Westminster legalised in Northern Ireland in 2019. LGBT matters also featured in the recent ousting of Arlene Foster as DUP leader.
She abstained on a Stormont Assembly motion proposing a ban on "gay conversion therapy" – which most of her party colleagues voted against. It was thought to be a factor in the move against her, several days later.
Sir Jeffrey is seen as slightly more liberal – but there's not much to call between the two. It's more to do with presentation and personality, rather than policy
Edwin Poots and Sir Jeffrey Donaldson have represented the Lagan Valley constituency for almost a quarter of a century – Mr Poots at Stormont and Sir Jeffrey at Westminster.
Julie Ann-Spence, from the local newspaper the Ulster Star, explains that people here regard them both as "one of us" and not "one of them" – politicians who they know personally, rather than just see on TV.
She doesn't see much difference between them in terms of their approach to main issues. "I would say the fundamentals are very similar. Sir Jeffrey is seen as slightly more liberal – but there's not much to call between the two. It's more to do with presentation and personality, rather than policy."
Both men believe they have the plan to reclaim electoral ground. They may need one.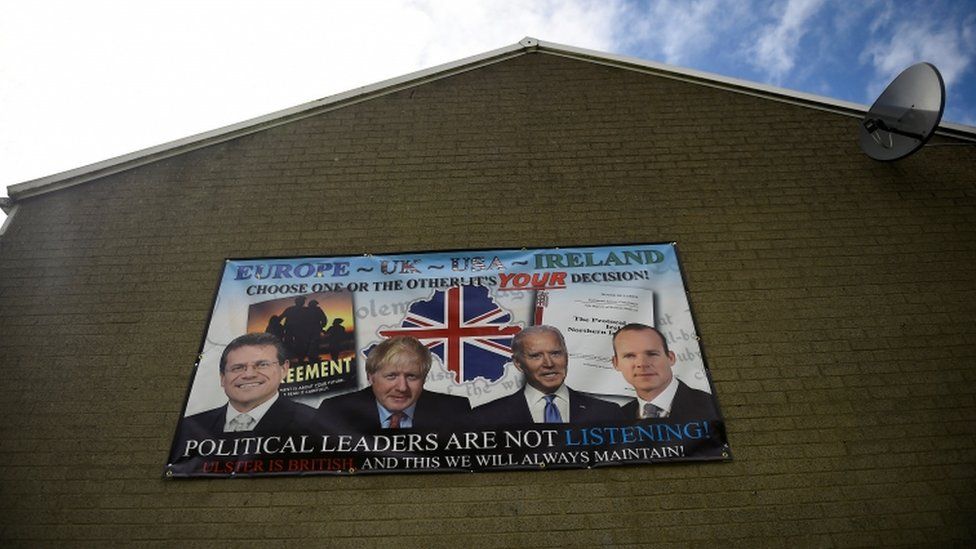 The advance of the Alliance Party – which characterises itself as being neutral on the union – was evident in Lagan Valley in the 2019 general election.
Although Sir Jeffrey still won comfortably – his majority fell from more than 19,000 to 6,499. Alliance almost trebled its vote to come second.
A poll earlier this year suggested the DUP was also losing support in the opposite direction – to the Traditional Unionist Voice, which was formed in 2007 by some ex-DUP members who felt it had compromised too much in power-sharing talks.
Alliance is socially liberal. The TUV committed to conservative values. Both are threatening to squeeze the DUP's vote.
Meanwhile, the Ulster Unionist Party – which was the largest unionist party, until it was overtaken by the DUP in 2003 – also has a leadership vacancy.
The frontrunner, and only candidate so far, is former soldier Doug Beattie – a social liberal who proposed the Stormont motion to outlaw gay conversion therapy.
The DUP's social conservatism is rooted in its history, as a party founded by the Reverend Ian Paisley – a powerful preacher who also set up his own Protestant denomination.
A number of significant figures in the party – including Edwin Poots – are still members of the Free Presbyterian Church. Mr Poots's religiously-influenced views – including his belief that the earth is 6,000 years old – have generated headlines in the past.
But he has shown political pragmatism in holding several ministries in the devolved government over the last 14 years, and he has built constructive relationships with Sinn Féin politicians.
Sir Jeffrey Donaldson, meanwhile, began his political career in the Ulster Unionist Party. However, in 1998 he walked out of the peace talks leading to the Good Friday Agreement – which was signed by the then UUP leader, David Trimble – joining the DUP in 2004.
He is a member of the biggest Protestant denomination in Northern Ireland, the Presbyterian Church. And like Mr Poots – he objected strongly to the Westminster government's decision to end the near-ban on abortion in Northern Ireland in 2019, and also opposed same-sex marriage.
"Working class unionist people don't care about gay marriage and abortion. They want to live in a peaceful land
Brexit is a also factor here. Both leadership candidates say they will prioritise campaigning against the Northern Ireland Protocol.
Yet some in the DUP fear the party will be blamed for the Irish Sea border when they are knocking on doors during the Stormont elections, in May next year.
The party was in favour of Brexit – and had huge influence in parliament when its 10 MPs kept Theresa May's minority Conservative government in power from 2017 to 2019. But it rejected her vision of a softer Brexit, which may have meant a trade border was more avoidable.
As grand secretary of the Orange Order, the Reverend Mervyn Gibson is one of the most senior figures in the marching organisation – and says the Protocol is the biggest worry for its members.
He thinks the new leader needs a "clear strategy" to address "apathy in unionism". But he says many members still have strong feelings about abortion – while the organisation says it is avowedly "pro-life".
He says the institution is concerned about any legislation which would "damage Christian expression and thought" – a reference to the debate on gay conversion therapy, where a number of church leaders have raised questions about whether certain prayers would become illegal.
From the 1990s onwards, the DUP moved from being a party of protest to being a party of power – broadening its base to appeal to more secularly-minded voters, while not wavering from its theologically-informed founding principles.
But the necessary accommodations in a power-sharing administration, the general decline of religious influence in Northern Ireland, and shifting societal ethics, have made treading that line more difficult.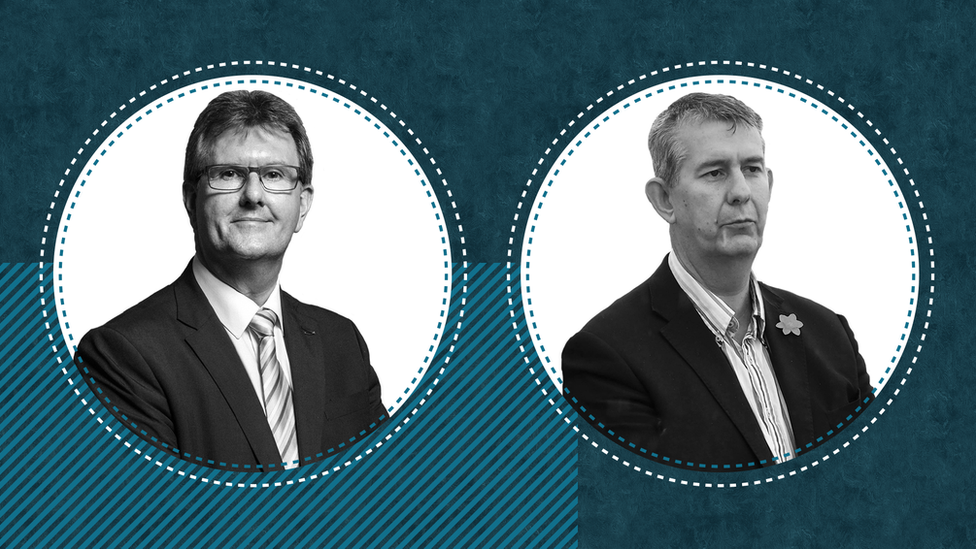 So will the new leader aim to refine that centrist approach – or firstly aim to shore up the party's position among its traditional supporters? It will be a defining decision – not just for the party – but potentially, for the union itself.
Both Mr Poots and Sir Jeffrey have also pledged to address a big internal concern – that the party has lost touch with "natural" unionist voters.
In 2017, unionism lost its overall majority in the Stormont Assembly for the first time since Northern Ireland was founded. And two years ago, a majority of non-unionist MPs were returned to Westminster – which was again unprecedented.
Public discussions about the potential for a referendum on Irish unity have increased – though the British and Irish governments have ruled out holding such a poll in the next few years.
Raymond McCord, from north Belfast, is from a unionist background, but says he can't vote for a unionist party at the moment. He says "they don't engage with unionist communities".
"Working class unionist people don't care about gay marriage and abortion," he says. "They want to live in a peaceful land."
His son, Raymond Jr, was murdered by loyalist paramilitaries in 1997. Mr McCord says he is "questioning" his commitment to the union, because of another complex, emotive issue – the UK government's reported plan to stop future prosecutions for killings before the 1998 peace deal.
"I don't want to live in a state where murdered people's lives don't matter," he says. On the other hand, he points out: "No-one has convinced me that anyone would be better off in a united Ireland."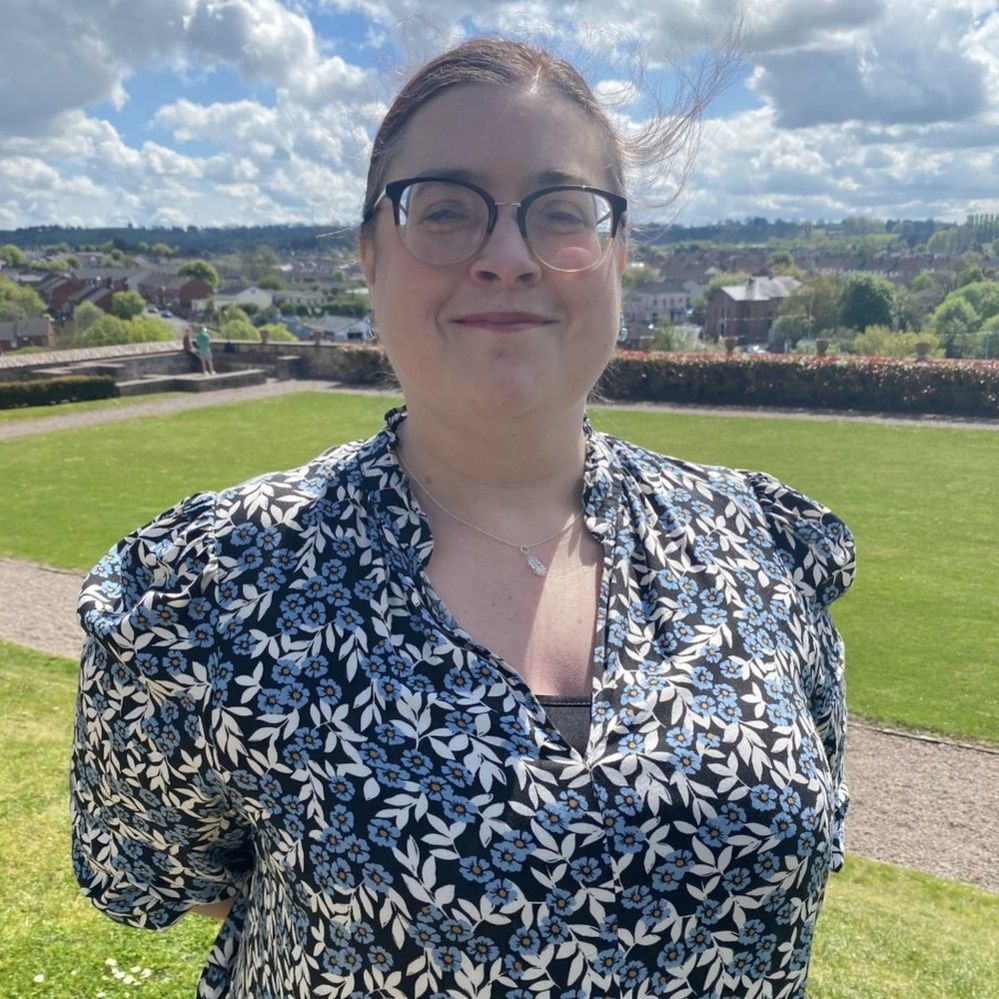 For Beth Docherty, a 22-year-old youth worker, a "strong, united, coherent voice" is vital as unionism assesses its future direction. She says a lot of young people – and not just unionists – have lost faith in political parties.
However, she feels "optimistic" about a change in leadership, and would urge a focus on one issue above all else.
"Education is the key to getting a new generation politically engaged, and believing in the future of Northern Ireland," she says.
Whichever way the DUP goes, most unionists would have expected Northern Ireland's 100th anniversary to be an occasion to look towards that future. Few could have anticipated it would happen through the lens of leadership changes in unionism's two biggest parties.
The new DUP leader will be hoping to secure a place in history, as the politician who secured Northern Ireland's place in the UK.