People should only go abroad if "essential" for at least three more weeks, Welsh ministers say.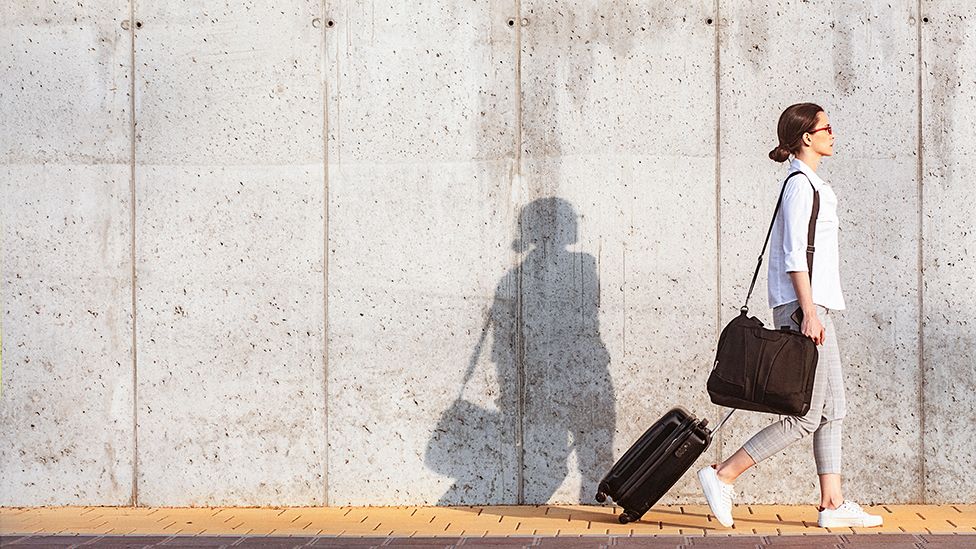 People in Wales are being advised to only travel abroad for "essential" reasons for at least three more weeks.
But Welsh ministers said people in Wales should only go abroad from 17 May for "essential purposes".
It comes as First Minister Mark Drakeford will say Wales is to move into Covid alert level two from Monday.
He is due to make the announcement at the next Welsh government Covid restrictions review press conference.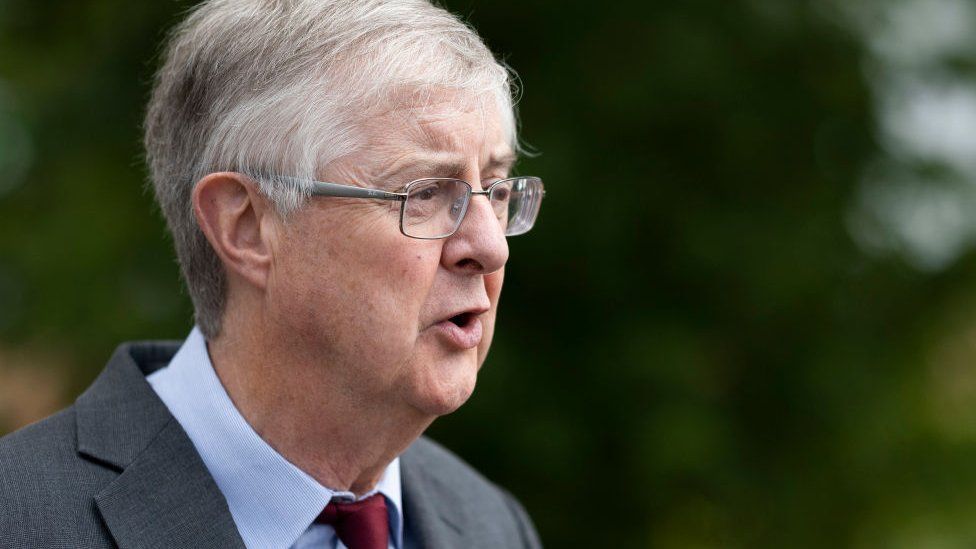 Speaking to BBC Breakfast, Mr Drakeford admitted the travel advice was not a rule because it would be "unenforceable", but urged caution against "importing" coronavirus from other parts of the world.
"We know most people who travel from Wales will be doing it from Bristol, Manchester, London, so once those airports are open and travel across the UK is allowed, then people from Wales will be able to travel," he said.
The first minister said the advice was "clear" and there were "fantastic opportunities" to take a holiday in Wales instead.
If people decided to travel abroad, Mr Drakeford said there would be "extra assistance" for people returning from countries where the decision to put them on the green list was "more marginal", including Portugal, Israel and Singapore.
This includes access to additional testing.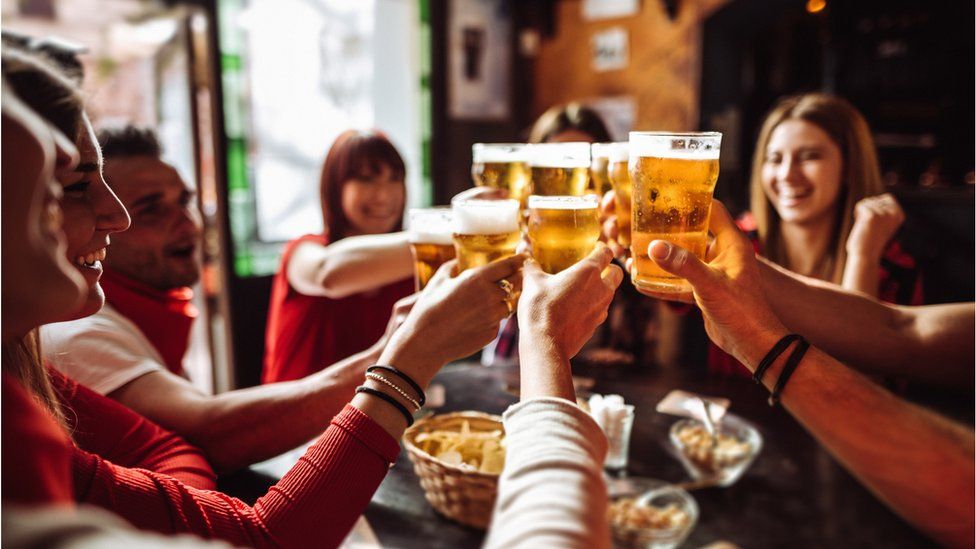 Mr Drakeford's announcement means indoor hospitality businesses and indoor entertainment venues will be able to reopen from Monday.
There will also be an increase in the number of people able to attend organised indoor and outdoor activities.
The first minister is also expected to confirm international travel will resume from Monday but with "extra safeguards" in place for people returning from some countries to prevent coronavirus re-entering Wales.
People in England and Scotland can take holidays abroad in a small number of so-called "green" countries without having to quarantine when they return.
Wales will be adopting the "traffic light system" used by England and Scotland with countries classified as green, amber and red.
This means people living in Wales will be able to travel to a small number of foreign destinations without the need to quarantine on their return. Mandatory quarantine for countries not on the green list remains in place.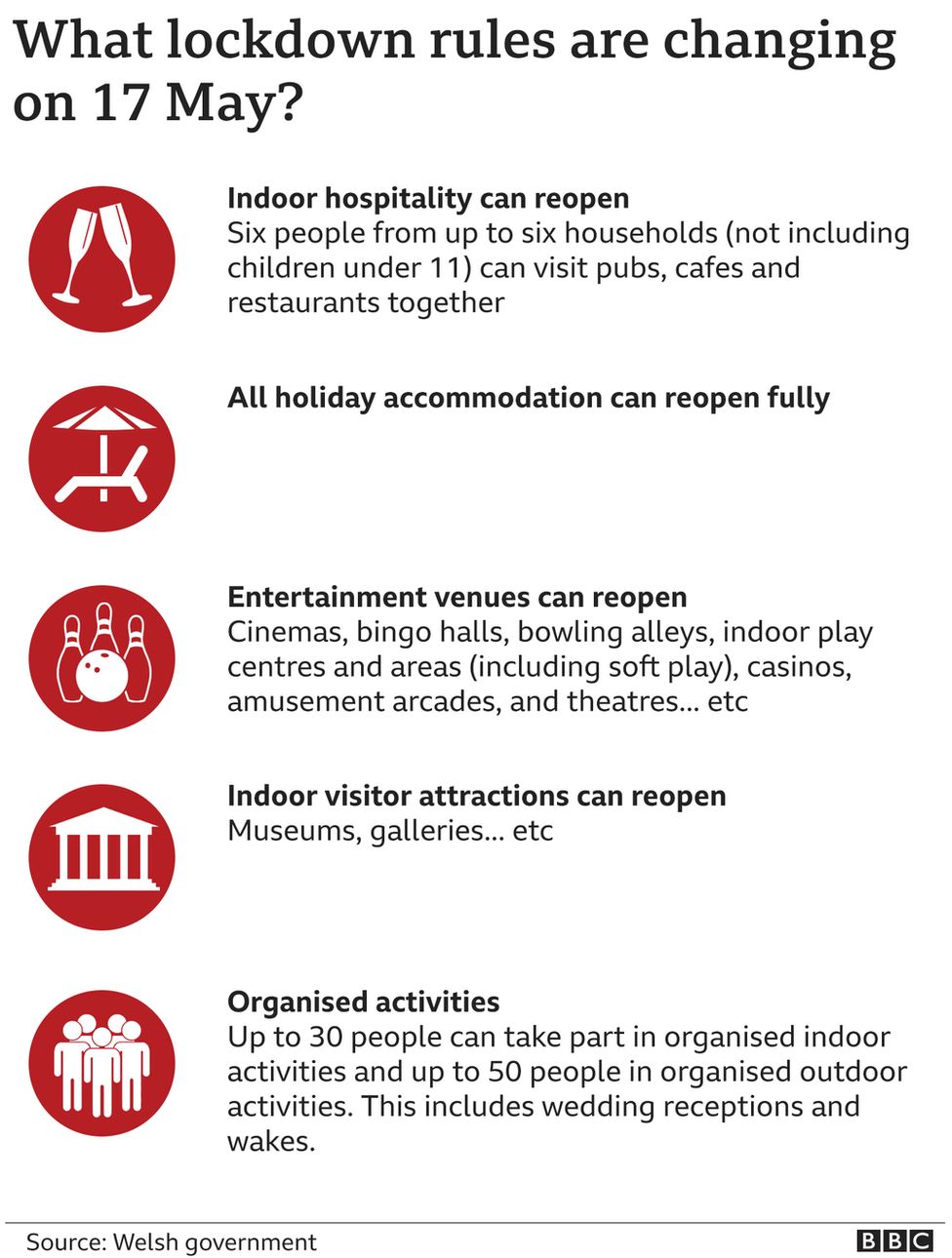 From 24 May, a "paper-based vaccination status" will be available for people in Wales who have had two doses of vaccination and need to urgently travel to a country that requires Covid vaccination proof.
However, the Welsh government said it would continue to advise people to only take trips abroad for essential purposes.
Other coronavirus restrictions to be eased from Monday include the reopening of indoor hospitality, with six people from up to six households (not including children under 11) able to book.
All holiday accommodation is also expected to be able to fully reopen, and entertainment venues including cinemas, bingo halls, bowling alleys, indoor-play centres and areas, casinos, amusement arcades, and theatres are expected to welcome back customers.
Cinemas, theatres concert halls and sports grounds are expected to be allowed to sell food and drink as long as it is consumed in a seated area for watching the performance.
The reopening of indoor visitor attractions, including museums and galleries, is also expected to be confirmed.
It is expected up to 30 people will be able to take part in organised indoor activities and up to 50 people in organised outdoor activities, including wedding receptions and wakes.
Mr Drakeford is also expected to say that if public health conditions continue to remain positive, the next three-week review will consider further changes to meeting people in private homes.
Also under review is a move to increase the number of people who can meet outdoors and the number of people who can attend organised activities and events, including wedding receptions, to 50 indoors and 100 outdoors.
Permitting larger-scale events to take place indoors and outdoors is also under consideration.